Glass Shower Doors & Enclosures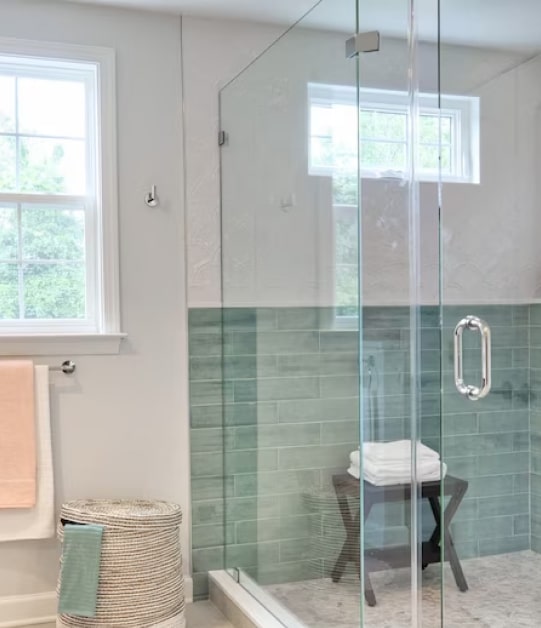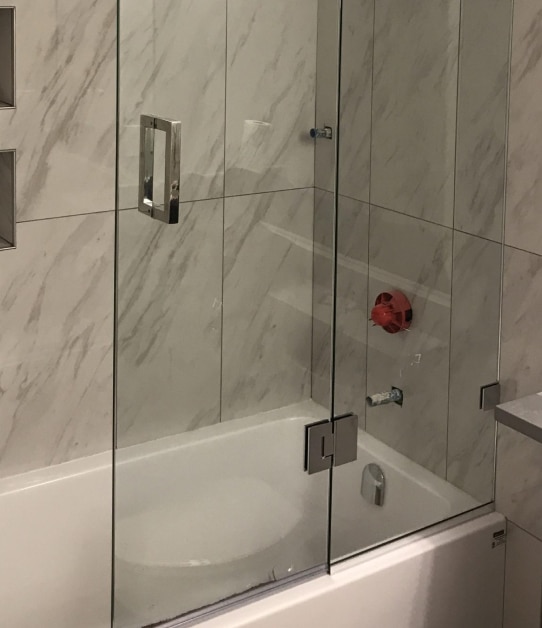 Beautiful looking shower doors truly add a nice upgraded look and feel to your bathroom. We have fabulous shower door enclosures which have a dramatic impact on your bathroom's design, really help to modernize the space, and give it a high-end finish. A shower should make a statement when it comes to your bathroom, and with our wide selection of doors, yours will become the centerpiece of the space.
We offer framed, frame-less and semi-framed shower doors and enclosures that help to:
Bring in more natural and artificial light to give your shower a consistent lighting tone with the rest of your bathroom
Open up the space so your shower becomes a closer part of the rest of your bathroom
Add to the look, feel and presence of your bathroom
•

Durabale

•

Affordable

•

Modern & Nice Design

•

Custom Made
Transform Your Bathroom Into An Elegant Retreat By  Glass Shower Doors
Bathrooms used to only be places to go when you needed to take care of your personal hygiene. That is no longer the case as now they have the opportunity to be beautiful spaces where people go to relax and take care of themselves from head to toe.
Showers and tubs within bathrooms are now top elements to investment into for enjoyment and for increasing resale value. According to Home & Garden Magazine, "The bathroom is the new kitchen," meaning buyers highly value beautiful and functional bathrooms much like they do kitchens. We offer numerous design, opacity, sizing and finishing options when it comes to glass shower doors and enclosures.
Our team of experts will walk you through the process of determining which glass shower door is best for your bathroom. We will provide manufacturing and installation pricing estimates and ensure that you get exactly what you envision.
Astro Glass experts will walk you through the process of determining which option is best for your bathroom, estimating the total price and quickly installing your beautiful new shower door or enclosure.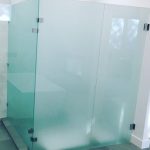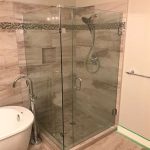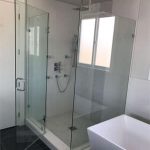 Multiple Glass Shower Door Choices
Here at Astro Glass, we offer our customers a wide array of options and styles for premium shower glass doors and enclosures. Our display of excellence doesn't end there. We start things off by making sure that only materials of the highest quality are used to make your shower doors. We take utmost pride in our glass doors.
Frameless glass shower enclosures are lauded for providing maximum air, space and light. That is why they come highly recommended. Our custom frameless enclosures and shower doors are the best styles to upgrade your showering experience to the highest levels possible.
As a client, you have the final authority to choose the best shower door for your use from our wide range of options. Our prices are also completely competitive, contributing to an wholesome customer experience. Our glass shower doors service cover all Metro Vancouver region including Coquitlam, Port Coquitlam, Maple Ridge, Port Moody, Burnaby, Vancouver etc. Contact us today!
Custom shower doors
Your shower is a sanctuary exclusive to you. It is the best place for you to relax and feel refreshed while taking optimal care of your personal hygiene. With Astro Glass, you control every step of the design and installation process. Our magnificent craftsmanship, coupled with your custom choices, will help to make sure that your glass shower doors and enclosures are exclusive to you.
You spend a lot of time in the shower, optimize it
Your showers are an important part of your daily lives. Whether you are taking a bath, shaving, washing, or brushing your teeth, you spend about 1-3 hours in the bathroom every day. In the old days, bathrooms were given complete importance. Ancient Romans invested a reasonable amount of time, money, and energy into their bathhouses, making them completely relaxing and comforting.
We are no longer in the Roman age, but there is no doubt that we believe that the shower has to be one of the most comforting rooms in your house. Today, most shower doors do not come with frames. This adds a luxurious touch to your shower, increasing the amount of light and air that enters your bathroom. If you want to enjoy a lavish showering experience, frameless shower doors are an excellent option.
Frameless Shower Doors
Using Frameless sliding shower doors in Vancouver's homes is getting more popular in recent years. a 100% glass shower that does not have any frames supporting it. They are usually made out of tempered glass that is thick enough to withstand increased temperatures. This makes them completely sturdy and strong enough to last long without any safety issues.
Glass Shower Doors Are an Excellent Choice
Glass shower doors are the ultimate in shower fittings. From an aesthetic point of view, they minimize the usage of dangerous metal in your showers. Additionally, they encourage an open feel that enhances your time in the shower.
You can't regret opting for a glass shower. They get top marks in terms of durability and aesthetic appeal. They also add more value to your home in the event that you are looking to resell your home in the near future. This means that despite a high initial cost outlay, you can recoup your investment in the future.
Frameless sliding Shower Doors in Maple Ridge is essentially a 100% glass shower that does not have any frames supporting it. They are usually made out of tempered glass that is thick enough to withstand increased temperatures. This makes them completely sturdy and strong enough to last long without any safety issues.
Shower doors installation in Vancouver
At Astro Glass, sliding glass doors are custom-fitted to suit the unique needs of each client with the utmost quality and skill. Our installers have years of experience in the Vancouver area and provide service and installations of the highest caliber. Our attention to detail ensures that your sliding or shower doors is installed correctly so you can enjoy a long life of ease while also enhancing the stylish décor of your bathroom.
All our installation and sliding glass door materials are sourced from premium certified suppliers, so rest assured that your sliding glass door is engineered for any climate conditions in Vancouver. Get in touch today and let us provide an unbeatable sliding glass door installation service!
Get shower doors that add beauty and value to your home in Vancouver. Our quality framed and frameless glass shower doors are designed to accommodate traditional glazing with ease of use. We offer a variety of styles, colors, and finishes with a perfectly smooth sliding movement. Select from clear, frosted, etched or patterned glass in diverse sizes: tub door, frameless shower enclosure, sliding shower door and more.
Take advantage of our custom installation service and take delight in your new glass doors without any hassle or maintenance. Plus have the peace of mind of knowing they are installed by our expert technicians who follow all safety protocols while ensuring quick replacements and clean installs. Contact us today to explore how you can enhance your home with sliding glass doors!