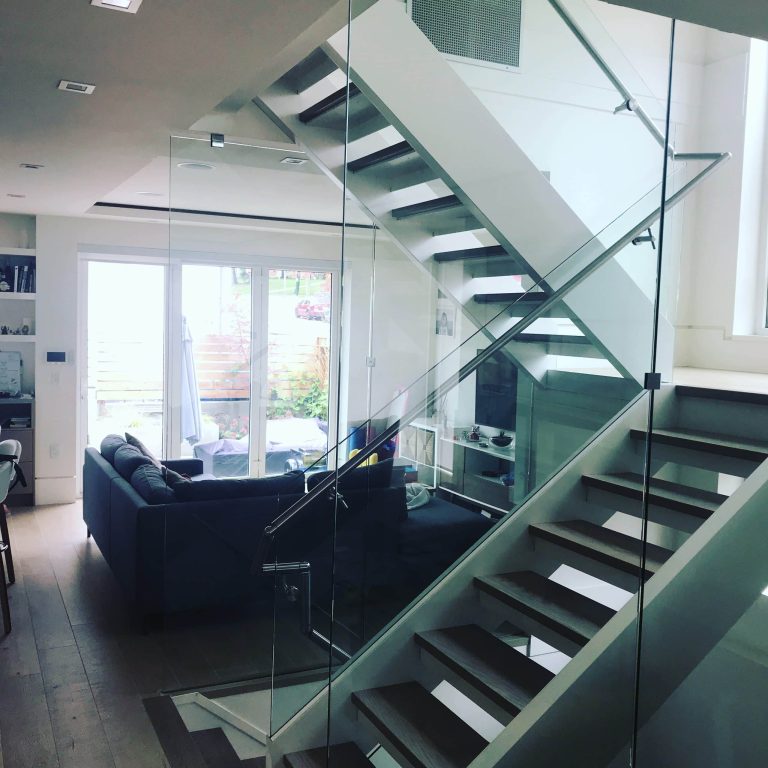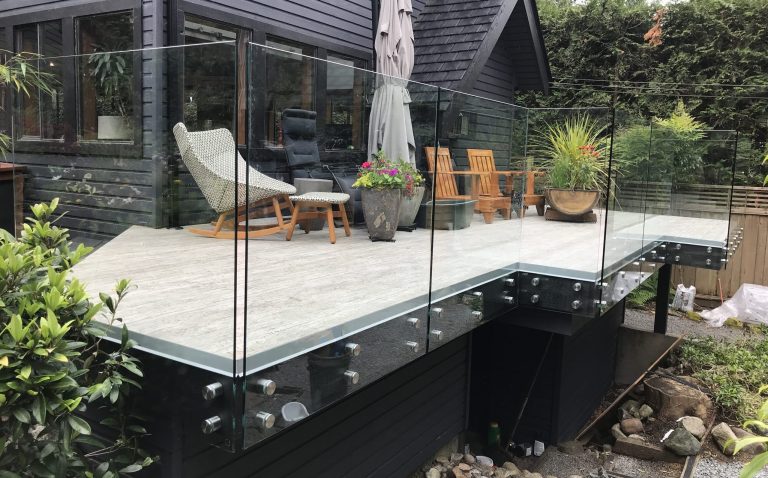 Framed & Frameless Glass Railing For Your Decks & Stairs
As a 5 star railing contractor in Maple Ridge, Coquitlam, Port Moody and Port Coquitlam, we are professional in fabricatingframed and frameless glass railing in any staircase, deck, patio or balcony. Getting help from our experienced glass railing design experts we will guide you through the process of choosing material, color selection, design, and other elements so that you get a product you can be impressed by, and enjoy for numerous years to come. Our company's reputation is solid, our workers are efficient in what they do, and our extensive experience of making clients happy is what we are most proud of.
Frameless Glass Railings
This type of railing uses tempered glass panels that are supported by stainless steel spigots or posts. The glass panels are typically 1/2 inch thick and can be clear, tinted, or patterned. Frameless glass railings offer a modern and minimalist look and provide unobstructed views.
Exterior Glass Railing
In a manner of speaking, each railing we commission is customized just for you.
Interior Glass Railing
Having said these, you might be as well convinced that glass railing is the best for your interior.
Glass Railings Price
You can get free quote for glass railing installation and inquire about prices and details by filling up the form or calling us.
Glass Railing Near Me In Coquitlam, Port Moody, Maple Ridge
We as a professional glass railing contractor in Tri-Cities, not only can handle all glass railins these area citizens needs, but also can do it for all Metro Vancouver cities like Burnaby, North Vancouver, New westminister …
The aesthetic appeal of glass combined with stainless steel on a staircase or your balcony cannot be overemphasized. Glass railings are entirely versatile and are compatible with any decor. Our workers are highly trained experts. They have years of experience installing glass railings in different buildings of any kind.
Our services are fast and reliable. Through years of commitment to serving our customers, we have remained fixated on immense customer satisfaction. We always deliver quality artistry. This means that every single one of our glass railings is guaranteed to make your home more beautiful and most importantly, to last.
We Offer Competitive Prices
Through years of experience in the industry, we have built up valuable contacts with glass and stainless steel manufacturers. This has enabled us to make valuable material recommendations. Also, we have the unique privilege of being offered competitive prices by our partners. These prices ultimately influence the prices we offer, making our glass railings as cost-effective as possible. You can have a free estimation about price of glass railing installation in your home.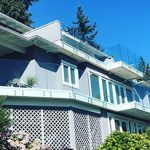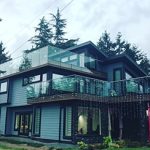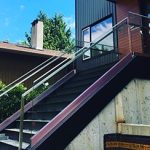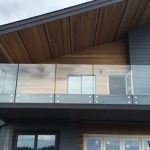 Glass Railings Installation Services
Astro Glass as a railing contractor offers exterior  glass railings installations services for balconies, indoor and outdoor staircases, backyard decks, patios, and other places where a beautiful view is desired.  At our company, glass railing for balconies is one of our most popular services. We provide a comprehensive glass products and exterior glass railings installation services – individualized to suit your home or business specifications.
Prices will reflect factors such as client location, accessibility, style and material types, but we guarantee the cost to meet your needs while also satisfying all parties involved in the project. We offer free quotes so that you can decide if we are the right contractor for you. For further inspiration, visit our webpage with rails designed specifically for residential and business spaces.
Our Working Process
we as a glass railing contractor, every step of our working process is crafted to make sure that the end product is exquisite. The installation of our glass railings starts with a design stage that includes drawings, frame by frame development before moving on to expert installation.
This way, you can be sure that the end product conforms to your design and specification needs. Using this process, Astro Glass can install glass railings, exterior enclosures, porch enclosures, and stair barriers excellently.
Glass Railings In Maple Ridge
This service in Maple Ridge are much more than aesthetic installations; they help to keep building residents safe. When you choose Astro Glass railings services, we provide a high standard of safety that is ensured by using high-quality materials. You can order any installation that you want, enjoying the best of designs without skimping on safety.
You Are A Part Of The Design Process
At Astro Glass, we believe that a wholesome working environment is hugely important. That is why we never cut our customers out of the picture. We value every single one of your inputs. At Astro Glass, you work closely with our designers to make sure that your railing dreams come through. From start to finish, from the initial consultation to the final finishing stage, we encourage that you play an active part.
Why Choose Astro Glass?
This service play an important role in buildings beautifulness and saftey. If installed poorly, they bring potential hazards. Additionally, it is not ideal for you to install a glass railing that doesn't last. Choosing a reliable establishment to make your railing dreams come true is a responsibility you have to accept. At Astro Glass, you can be sure that this responsibility is handled admirably. Our track record is impeccable.
Glass Deck Railing In Maple Ridge | Coquitlam
Glass railings for decks make your home's outdoor look very nice. You can order a custom glass deck railing design to us and deliver whatever you imagined.
The cost of a glass deck railing will vary depending on the type of railing, the size of the deck, and the materials used. The average cost of a glass deck railing is $50 to $600 per linear foot.
Here are some of the factors that can affect the cost of a glass deck railing:
Type of glass: The type of glass used will affect the strength, durability, and price of the railing. Tempered glass is the most common type of glass used for deck railings.
Thickness of the glass: The thicker the glass, the stronger and more durable it will be.
Size of the panels: The larger the panels, the more expensive the railing will be.
Materials used for the frame: The frame can be made of stainless steel, aluminum, or wood. Stainless steel is the most expensive material, but it is also the most durable.
Complexity of the installation: The more complex the installation, the more expensive the railing will be.
If you are considering installing a glass deck railing, you just need call Astro Glass to do it for you with highest quality and best price.
Glass Railing For Staircase
At Astro Glass, we have been dedicated to supplying glass railing for staircases and custom glass products to homeowners and designers for many years. We take every measure to make sure your railings are safe, durable and beautiful. Our estimators are experienced professionals who use state-of-the-art equipment to guarantee precise installations of glass railings right in your home. We offer railing solutions in a variety of glass types and hardware styles.
If you're looking for stairs railing solutions, then come by our showroom today to take a look at our samples or let us answer any inquiries you might have. Our experienced staff is eager to help you find the railing perfect for your property so don't hesitate and visit us now!